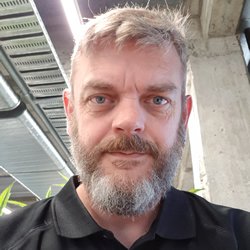 At heart, I'm a geek.
I've also studied management:-
I've driven some trucks.
But at heart, I'm a geek.
I've been a constant users of Debian since 2005, and prior to that Ubuntu, Gentoo, Mandriva, Mandrake, all sorts. But y'know, I've installed Windows™ when I've wanted to play some non-Linux games, or configure some Checkpoint™ firewalls.
I can code in bash (although Google™ helps), and can code in PHP™ pretty easy, although I've never done any OOP.

I was fully emersed in the ISP environment first as Senior Network Engineer, then as the Rural Network Operations Manager at Lightwire, so I can do some networking.

Occasionally I get bugged by something, then start a project to solve my problem.
I ran a TiVo™ project in New Zealand for a while, where I was hacking TiVos™ to work in NZ, before they were officially launched.
I ran the largest XMPP / Jabber server in New Zealand for many years, until spammers ruined it for me.
I ride motorbikes, and as a result help out with some clubs ( like Ulysses ).